Sailor Blood Moon | Framed | Canvas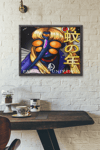 If you're into Sci-Fi/Sci-Fi Horror hosted by humanoid mosquitoes from a parallel universe then you've come to the right place. Your collection is not complete until you've added this post-apocalyptic print!
About this Product:
Frame: Brown Golden
Size Available: 34 X 35 Customized
* Disclaimer:
Please allow up to 2-3 weeks for your order. In many cases, you'll get it sooner. All Sales are FINAL. There can be no refund.
Thank You in advance for your SUPPORT!